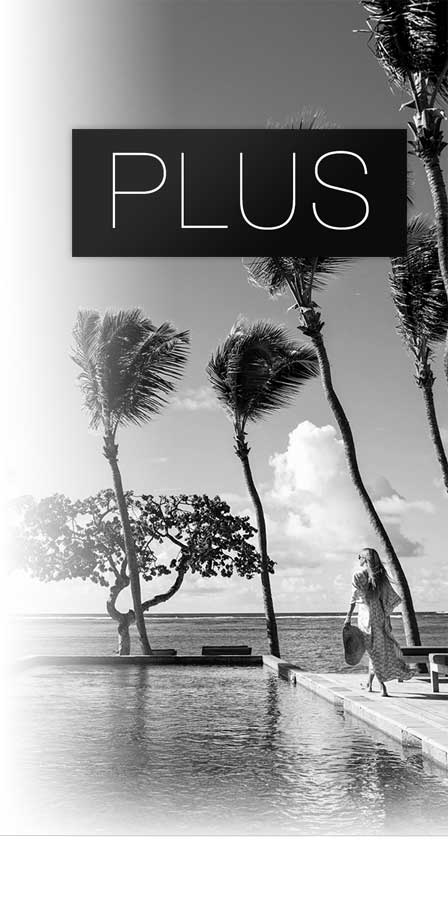 Live a life of privilege.
Become a Tablet Plus member for just US$ 99 to enjoy a full year of special perks and amenities from Tablet and hundreds of participating hotels.
As a Plus Member you will receive:
Complimentary upgrade at Tablet Plus hotels, based on availability upon check-in.
Dedicated customer service – we will personally reconfirm your reservation and customized benefits prior to your arrival. You'll receive an email with all the reconfirmation details, including the name of our contact at the hotel.
Advance access to our weekly sales.
Members also receive 3 additional exclusive amenities at participating hotels such as:
Breakfast for two.
Guaranteed late check-outs.
A glass of champagne or cocktail.
Airport & transportation transfers.
Internet access (in hotels that otherwise charge).
Recreational, such as scuba diving, sailing lessons or cooking classes.
Amenities are complimentary unless otherwise specified and vary based on participating hotel.
The Tablet Plus Benefits Program (the "Benefits Program") from Tablet, Inc. ("Tablet," "we," or "us").
ELIGIBILITY
ANNUAL FEES
CANCELLATION
BENEFITS
REMEDIATION TO SUBSCRIBERS
BENEFITS PROGRAM TERMS
TERMS AND CONDITIONS
ELIGIBILITY
The Benefits Program is available to those customers who sign up for our benefits program "Tablet Plus" and agree to pay for the annual enrollment fee as provided below ("Subscribers").
ANNUAL FEES
There is a US$ 99 annual fee for participation in the Benefits Program. The annual fee for the Benefits Program will be billed to the credit card you provide during the enrollment process and thereafter billed automatically each year on the enrollment date anniversary. The enrollment date is the date that you complete the online enrollment process and your credit card is charged successfully.
CANCELLATION
You may cancel your enrollment in the Benefits Program for the upcoming year at any time in advance of the next enrollment date anniversary. Cancellation may be effected on line on the Tablet website or by email sent to tabletplus@tablethotels.com in advance of the next enrollment date anniversary.
BENEFITS
Subscribers will receive the following privileges at hotels participating in the Benefits Program (the "Participating Hotels"):
Complimentary upgrade upon hotel check-in, based upon availability
Tablet Plus members receive an additional 5% bonus discount during the first 24 hours of our Private Sale
Dedicated customer service: we personally reconfirm all your Tablet Plus reservations and their customized benefits, and we email you with all the reconfirmation details, including the name of our contact at the hotel.
Subscribers will also receive three additional amenities as selected by each Participating Hotel. Sample amenities include:
Complimentary continental breakfast for two
Guaranteed 4:00 p.m. check-out
One complimentary glass of champagne or one cocktail, per guest, upon arrival
Spa voucher worth $50 US
Complimentary airport transfer
Complimentary internet access (only for hotels that do not already offer this free to all guests)
Complimentary gym access for two for the length of your stay
REMEDIATION TO SUBSCRIBERS
If in the event any Subscriber does not receive the Amenities as described on the reservation confirmation, Tablet will use its commercially reasonable efforts to get the corresponding Participating Hotel to provide compensation that is equivalent to the value of the denied Amenity to the Subscriber. If the Participating Hotel fails to provide compensation which satisfies the Subscriber, Tablet may at its own discretion remove this property from the list of Participating Hotels.
BENEFITS PROGRAM TERMS
Hotels may be added or removed from the Benefits Program at any time with or without notice.
The benefits available under the Benefits Program in some cases may not be combined with other concurrent offers made by Participating Hotels.
Enrollment in the Benefits Program and the benefits accruing thereunder are not transferrable.
TERMS AND CONDITIONS
Except as otherwise set forth herein, the Benefits Program is governed by and you agree to be bound by the terms and conditions of use of the Tablet website which can be found at http://www.tablethotels.com/plus/Terms.